The 2018 Meeting was a rousing success. The change in venue seemed to agree with most folks, and the afternoon rain did nothing to dampen the spirits of the folks who took the bus tour of the UF campus. Headed by two ECE Florida students, the tour gave participants a flavor of the UF campus while showcasing the flipped classroom facility and the FICS Research SCAN Lab.
Dinner was accompanied by featured speaker, Dr. Mark Law, Director of UF Honors Program, and former ECE Chair at University of Florida. His talk was entitled, "Can an Honors Program Help Electrical Engineering Students? If so, How?"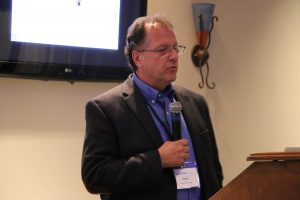 The next day was all business, with discussion topics ranging from ECE Graduate Student Recruiting to Electrical engineering vs. Computer Engineering and Robotics in the ECE Curriculum. There was also an ECEDHA update provided by Chiu Choi.
A gallery of selected photos from the meeting is below.