The 2018 meeting will be held October 25-26 at the University of Florida in Gainesville, FL.
Potential agenda topics were discussed at the Regional Meeting during the National ECEDHA meeting in March 2018.
Schedule & Agenda
The SECEDHA meeting officially begins Thursday, Oct. 25 at 5:30 p.m. and finishes up at 2:30pm on Friday, Oct 26. There is an optional pre-session, 2:00 to 4:30 p.m., immediately before the official start of the meeting. During this pre-session, attendees will have more discussions and a chance to see the UF campus and ECE facilities (including the nanoscale research facilities and the flipped classroom).
The official program for the 2018 SECEDHA Annual Meeting is available now. Click on the link below.
SECEDHA 2018 Program
Accommodations
The meeting will be held at the Hilton University of Florida Conference Center, just off the University of Florida campus.
A discounted block of rooms is available from the Hilton at this link: http://www.hilton.com/en/hi/groups/personalized/G/GVNCCHF-EN1018-20181025/index.jhtml.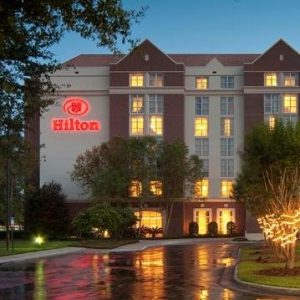 Questions or problems with registration? Please contact Michelle Evern.
A map of the venue will soon be available.
Registration
Registration for the meeting is done via the online registration form here. Like last year, the early registration fee is $200, but this year you will be able to pay by credit card or invoice as well as by check. Early registration ends on Oct. 11 and the registration fee goes up to $300 after that.